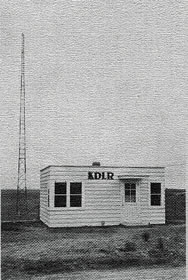 KDLR first went on the air January 31st, 1925 as the "Radio Electric Company".
As this 1935 photo shows, it started with very humble beginnings.  The first studios were actually in the house of KDLR founder Bert Wick.
In that era, there was not much technology available for recording and playing back audio, so nearly all of what was heard on KDLR was live, utilizing local talents of people in the listening area.
The first music programming was made by playing a phonograph in front of a makeshift microphone made from a telephone.
Instrument recitals, soloists, small orchestras, even poetry readings were the programming of the day.