Details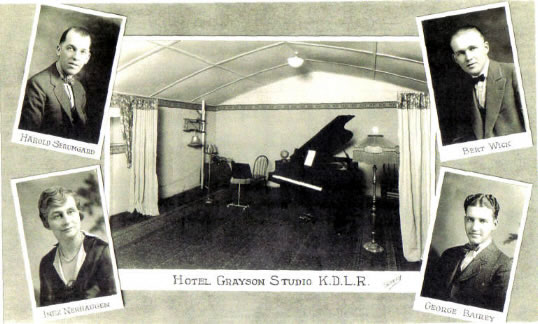 A publicity photo postcard promoting the station, which was in an upper room of a hotel in downtown Devils Lake.  The photo shows Bert Wick and Harold Serumgard, the two partners that started the station, George Bairey, an announcer, and Inez Nerhaugen, who played music. The studio consisted of two microphones, some musical instruments in the corner, and the piano.  The bell is for sound effects, and was rung every time there was a live commercial for Bell Drug Store, a regular advertiser of the time.
Details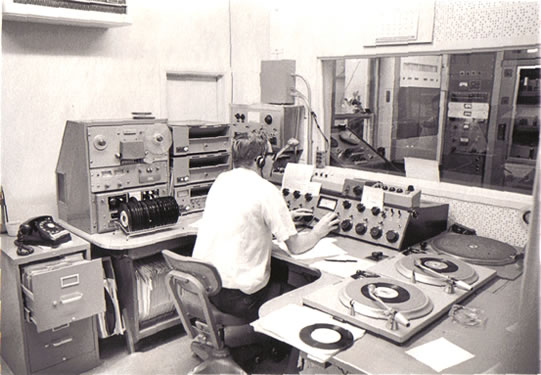 Announcer/engineer Dave Haug operates KDLR and (KDLR-FM) in 1971.
45's, LP's and '78's were the media of the day, local recording was done on bulky reel-to-reel machines in the background. In those days, a radio announcer really had to keep on his feet to keep the program running.  During a 2-3 minute song, there was no time to rest!  They would be very busy getting other machines ready to play, recording, answering the phone, maintaining the transmitter, preparing the news, among many other duties.  And that was just one station!  He also ran the FM station in another studio behind him.  The FM station was automated, but still had to be regularly updated and watched.
Details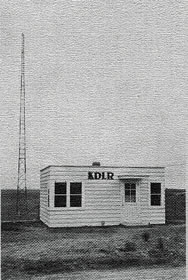 KDLR first went on the air January 31st, 1925 as the "Radio Electric Company".
As this 1935 photo shows, it started with very humble beginnings.  The first studios were actually in the house of KDLR founder Bert Wick.
In that era, there was not much technology available for recording and playing back audio, so nearly all of what was heard on KDLR was live, utilizing local talents of people in the listening area.
The first music programming was made by playing a phonograph in front of a makeshift microphone made from a telephone.
Instrument recitals, soloists, small orchestras, even poetry readings were the programming of the day.