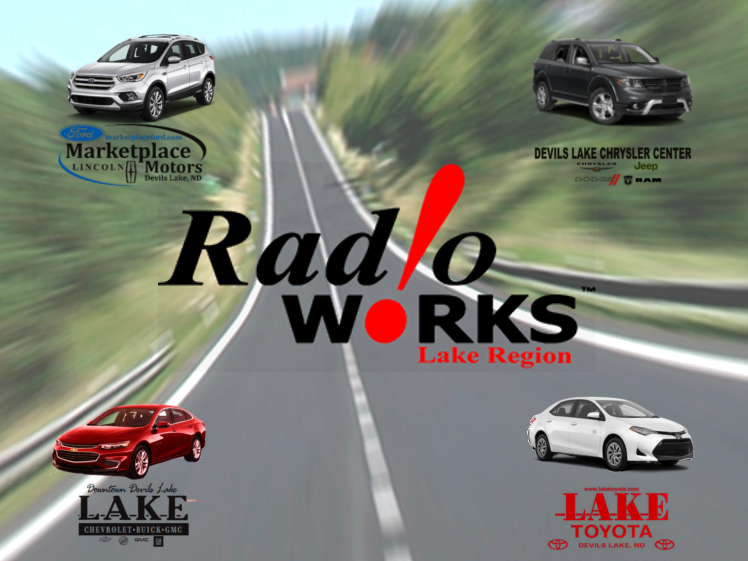 RadioWorks and the Devils Lake New Car Dealers are giving you a chance to win a BRAND NEW CAR! It's the "Great Car Giveawy" - the ONLY car giveaway that gives you your choice of out of 4 brand new cars! We've got a brand new:
Dodge Journey from the Devils Lake Chrysler Center
Toyota Corolla from Lake Toyota
Ford Excape from Marketplace Motors
Chevy Malibu from Lake Chevrolet/Buick/GMC
The grand prize winner will get to take their pick! All you have to do to win is sign up at one of our daily locations during the contest. We'll have registration set up at one location each day - just listen in where to sign up and get your name in the registration box. We'll draw from the registration for one finalist the following weekday morning at 7:10 on the RadioWorks stations, and then we'll announce the next day's location!
You must be 18 or older to win
Only one finalist per household
Register only ONCE per location
Winner responsible for all taxes, license and insurance of the vehicle
Grand Prize drawing will be held at the NDRA Shootout rodeo in September at the Burdick Arena. Be listening where you can sign up to win from the Devils Lake New Car Dealers and RadioWorks!
---
7/24 - Thrifty White Drug: JoAnn Paulson (Webster)
7/25 - Hearing Aid & Optical: LaVae Haaland (Devils Lake)
7/26 - Builders 1st Source: Mike Sylling (Devils Lake)
7/27 - Slumberland Furniture: Judy Anderson (Leeds)
7/28 - LaMotte's Paint & Glass: Jordan Holtz (Devils Lake)
7/31 - Cenex One Stop: Jody Mercer (Devils Lake)
8/1 - Cenex McVille: Tiffany Sherland (Lakota)
8/2 - Cenex Michigan: Lynn Lamb (Michigan)
8/3 - Cenex Lakota: Tracy Larson (Brocket)
8/4 - DL Speedway: Carrie Baker (Devils Lake)
8/7 - Cenex West: Adam Eriksson (Devils Lake)
8/8 - Mr. & Mrs. J's: Lori Wilhelmi (Devils Lake)
8/9 - Johanson Construction: Eddie Huber (Devils Lake)
8/10 - Leevers North: Marie Williams (Maddock)
8/11 - Leevers North: Clint Lara (Crary)
8/14 - Pizza Ranch: Michelle Tollsrud (Esmond)
8/15 - Cenex Travel Plaza: Jean Miller (Lakota)
8/16 - Creative Impressions: Arthur Mudgett (Fort Totten)
8/17 - Devils Lake Chrysler: Jody Simonson (Sheyenne)
8/18 - Ironhide Equipment: Bryan Knutt (Rock Lake)
8/21 - Lake Chevrolet: Keisha Demery (Cando)
8/22 - Lake Toyota: Arnold Beaver (Rolette)
8/23 - 1st Source Builders: Glen Bosch (Devils Lake)
8/24 - Marketplace Motors: Sara Wilhelmi (Devils Lake)
8/25 - Mark's Greenhouse: Kristy Laber (Devils Lake)
8/28 - Metro Plains Management: Patty Kuchar (Edmore)
8/29 - Blake's Marine: Paul Bjorson (Devils Lake)
8/30 - Thirsty's: John A. McLaurin (Devils Lake)
8/31 - County Bottle Shop: Jean Callahan (Minnewaukan)
9/1 - Gerrells Sports Center: Gary Remmen (Devils Lake)
9/5 - St. Michel Furniture: Megan Robbins (Devils Lake)
9/6 - Leevers South: Hannah Redfox (Tokio)
9/7 - Ritter Huesgen Jewelers: Dan Ness (Devils Lake)
9/8 - NDTC: Jeremy Nicholls (Crary)
9/11 - Spirit Lake Casino: Kathy Abaurrea (Carrington)
9/12 - Johanson Construction: Lyle Miller (Maddock)
9/13 - Horizon Financial Bank: Sue Feickert (Devils Lake)
9/14 - Liquor Locker: Michael Hoff (Devils Lake)
9/15 - Marketplace Motors: Larry Alexander (Devils Lake)
9/18 - Lake Toyota: Ashley Edwardson (Devils Lake)
9/19 - Lake Chevrolet: Mark Estenson (Devils Lake)
9/20 - Minnie H. Cleaning Center: Dennis Brockman (Devils Lake)
9/21 - KFC/Taco Bell: Lisa Westby (Devils Lake)