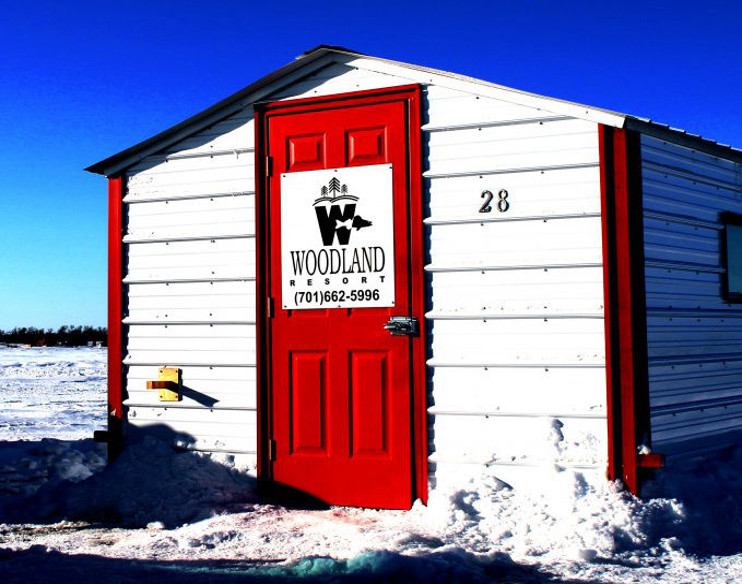 It's "butt cold" outside - and "butt cold" means GREAT ice fishing. And GREAT ice fishing is even better in a 6-person Ice House from Woodland Resort! Thru February 3rd, be listening for our ad of the day - be the 3rd caller in when you hear it and you qualify! We'll take 5 qualifiers per day on Cruiser 102 and 10 qualifiers per day on Mix 96.7. The following morning, we will select one finalist from each station who will go into the Grand Prize drawing on Monday, February 6th - where the winner will get a one day 6-person ice house rental from Woodland Resort with use of a Vexilar fish locator, underwater camera, and food from Proz Lakeside at the Cove! It's "butt cold" outside, but we're warming up the airwaves with your chance to win, courtesy of Woodland Resort, Proz Lakeside at the Cove, and RadioWorks!
CONGRATULATIONS TO JAMIE ORNESS!!! THANKS TO EVERYONE FOR PLAYING
AND KEEP LISTENING FOR OUR NEXT CONTEST!!
| | | | |
| --- | --- | --- | --- |
| Date | Ad of the Day | Mix 96.7 Qualifier | Cruiser 102 Qualifier |
| 1/16 | Woodland Resort | Curt Azure | Nick Hettwer |
| 1/17 | Schwan Wholesale | Traci Martin | Adam Nash |
| 1/18 | Rock Lake Coyote Hunt | Adam Erickson | Brady Martz |
| 1/19 | Leevers Foods | Jeff Horn | Elisa Mudget |
| 1/20 | Proz Lakeside | Jamie Orness | David Elverud |
| 1/23 | Gas Depot | Karen Swanson | Brad Hammond |
| 1/24 | Thompsons Glass & Paint | Rachel Stenkoway | Dustin Willy |
| 1/25 | Pizza Ranch | Michael Haas | Lisa Westby |
| 1/26 | Alken | Tanner Hillard | Robert Hanson |
| 1/27 | Lakes Liquor | Katherine Barta | Rhoda Pfiefer |
| 1/30 | Fairview Grocery | Kelsey Joy | Kristy Thompson |
| 1/31 | L R Fitness | Shawn Stafford | Mike Ebertz |
| 2/1 | Monsterlawn | Denice Gage | Connie Ambers |
| 2/2 | Service Tire | Trista Ebensteiner | Dianne Karlsbraaten |
| 2/3 | Dukes Car Wash | Patty Bennette | Andrew Sogge |
---